Children's Fiction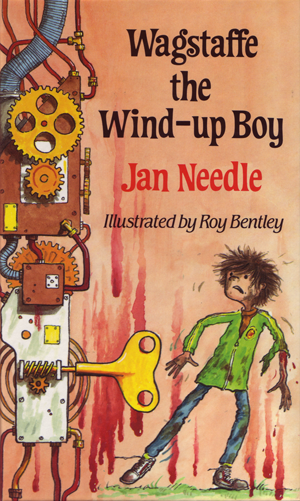 Wagstaffe the Wind-up Boy
Back-to-front, 2009
One of Jan Needle's best-loved and best-remembered books, Wagstaffe is the story of a boy. In the words of a writer for Books for Keeps magazine:
A smelly, malicious snotgobbler, deserted in disgust by his repellent parents, is squashed by a truck on the M62, then resurrected with clockwork viscera by a maverick surgeon who allows the nurses to take the mangled umbles home for stew. Bereft of the heart he was born with, Wagstaffe discovers finer feelings when he hears of the plight his mum and dad are in. This book is as repulsive as it sounds, and the most entertaining read I've had in weeks. The nasty bits might appeal to otherwise reluctant readers, but don't let their parents catch you recommending it.
On Stage
Wagstaffe has been staged many times, most notably by Mercury Theatre in 2009, and Knee-high Theatre on a UK tour in 2005.
Kneehigh
Directed by Mike Shepherd
Adapted from the book by Jan Needle, by Mike Shepherd and Carl Grose.
Wagstaffe is an adventure story, which should never have happened. Wagstaffe is a boy so awful his parents run away from home and join the circus. For a while he lives in a teenage bliss of slobbing about. Then he meets the articulated lorry...
Well what would you expect if you amuse yourself by throwing eggs at the windscreens of passing motorists on the motorway?
Almost by chance, and thanks to a good doctor, Wagstaffe survives. He is rebuilt with the most bizarre modifications including a key to wind him up and he has to pee through his finger. He has inadvertently become the most unlikely superhero with the most ridiculous powers.
Life is one big accident for Wagstaffe and he unwittingly uncovers a dastardly plot to send his missing parents over Niagara Falls in a barrel. How bad is Wagstaffe? Will he try to save them? Can he possibly conquer the most impossible odds? Will there be a happy ending?
"The show is performed mostly by just three players, who nevertheless make a huge impact on stage. Wagstaffe is brilliantly captured by Carl Grose, who pours boundless energy into the role and establishes tremendous rapport with the audience".
Theatre World Magazine

"Simply irresistible, it"s full of giggles, magic and trickery... fresh faced, interactive and simply good-clean-honest fun. It will engage you throughout, make you forget your worries and will awaken the child inside you, or beside you".
Smith's Magazine
Carl Grose playing Wagstaffe